A Fearless Pursuit of Innovation
At Pratt Miller, we're driven by a mission to keep the world moving forward, faster, safer, and more efficiently. We never shy away from a challenge and take pride in our passion to continuously push boundaries.
Partnering with the world's leading manufacturers, startups, and makers, we seek to transform how the world innovates through masterful engineering and product development for the new mobility market. With our existing portfolio and sense of mission, Pratt Miller is the preferred Research and Innovation partner and niche-production supplier to the most innovative automotive, commercial truck, powersports, and new mobility original equipment manufacturers (OEMs) in the world.
Connected Systems
Connected Assets

Component Selection & Integration
Local & Remote Connectivity
Over The Air Updates (OTA)

Data Handling

Collection & Distribution
Latency Optimization
Cloud vs Local Storage

Software Delivery

Human Machine Interface (HMI)
Autonomous Mission Management
Asset & Fleet Optimization

Data Intelligence

Machine Learning
Artificial Intelligence
Advanced Analytics
Autonomy
Mobility Controls

Lateral & Longitudinal Control
Terrain Classification & Adaptability
Tele-op Functionality

Path Planning and Path Following

Local & Global Path Planners
Waypoint & Breadcrumb Following
Leader-Follower & Tethered Capability

Localization and Perception

GPS Guided & GPS Denied Environments
Object Classification & Sensor Fusion
Object Detection/Object Avoidance (OD/OA)

Simulation and Test

Environment & Vehicle Creation
Autonomy & Vehicle Dynamics Modeling
Sensor Modeling
Electrification
Low & High Voltage System Design and Build
System & Vehicle Design and Build
Battery Pack Engineering and Build
Traction Motor, Power Electronics and Drivetrain Engineering
Vehicle Electrification Integration
Performance
Full Vehicle Design, Analysis and Development
Vehicle Dynamics Modeling
Aerodynamics Development
System Analysis and Optimization
Vehicle and System Performance Testing
The Pratt Miller Difference
People
We hire the best in the world while leaning into the power of teamwork. We're a daring group of forward-thinkers relentless in our pursuit of excellence.
Process
Our proven processes, seamless cohesion, and championship legacy allow us to move at an unmatchable speed, precision, and quality.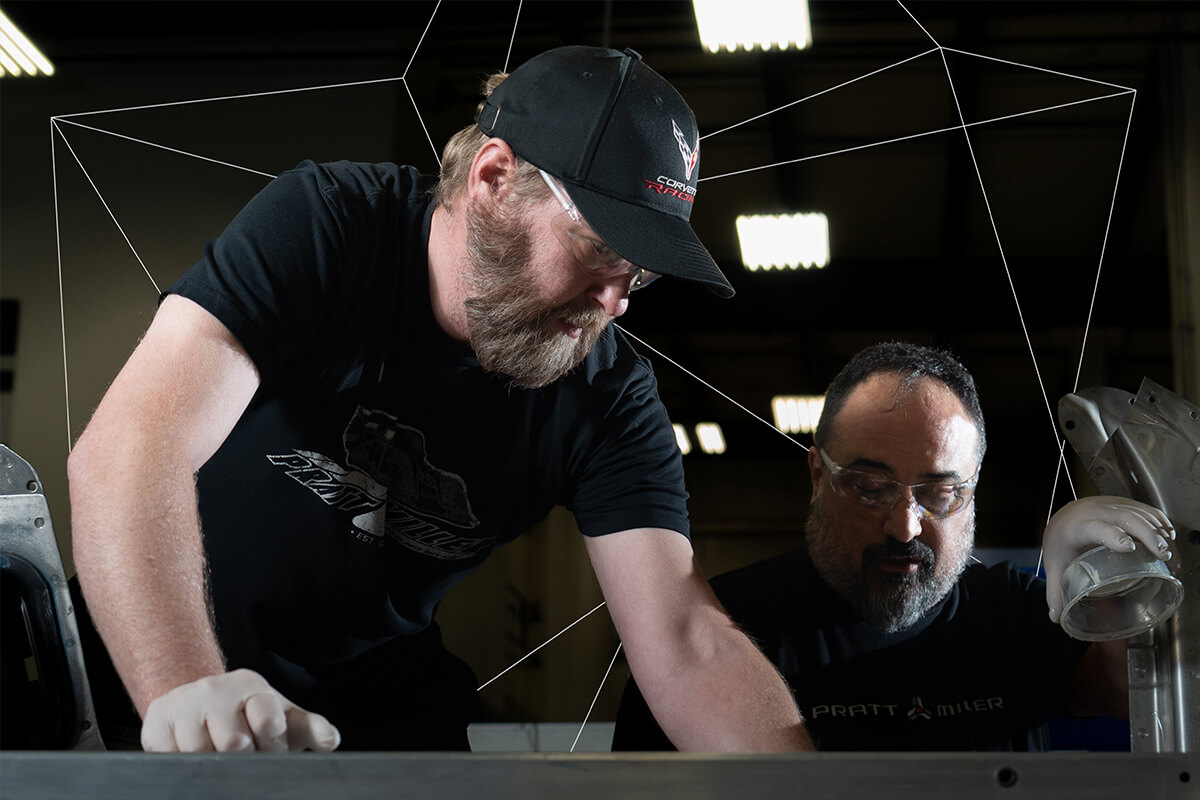 Become a Master of Change
We're always looking for the game-changers – the innovative few who dare to try something different. With our winning history in motorsports, defense and new mobility, we're a haven for engineers, makers, and technicians eager to solve big problems and transform industries.
Careers at Pratt Miller
The Latest from Pratt Miller
READY TO PUSH BEYOND THE LIMITS?
Reach out to us to see how we can help solve your toughest design, engineering and production problems and bring your innovative vision to reality.